UAW LOCAL 1050
June, July & August
MEMBERSHIP MEETINGS
CANCELED BY MEMBERSHIP APPROVAL
This posting is to inform the membership that the June, July & August Union Meetings have been canceled by membership approval.
Our next union meeting will be on Sunday September 17, 2023 at 10:30AM. Per the Local By-Laws, should an emergency arise during these canceled meeting months, we shall be empowered to call a special meeting for appropriate action or information.
In solidarity,
James "Gappy" Burney
President, UAW Local 1050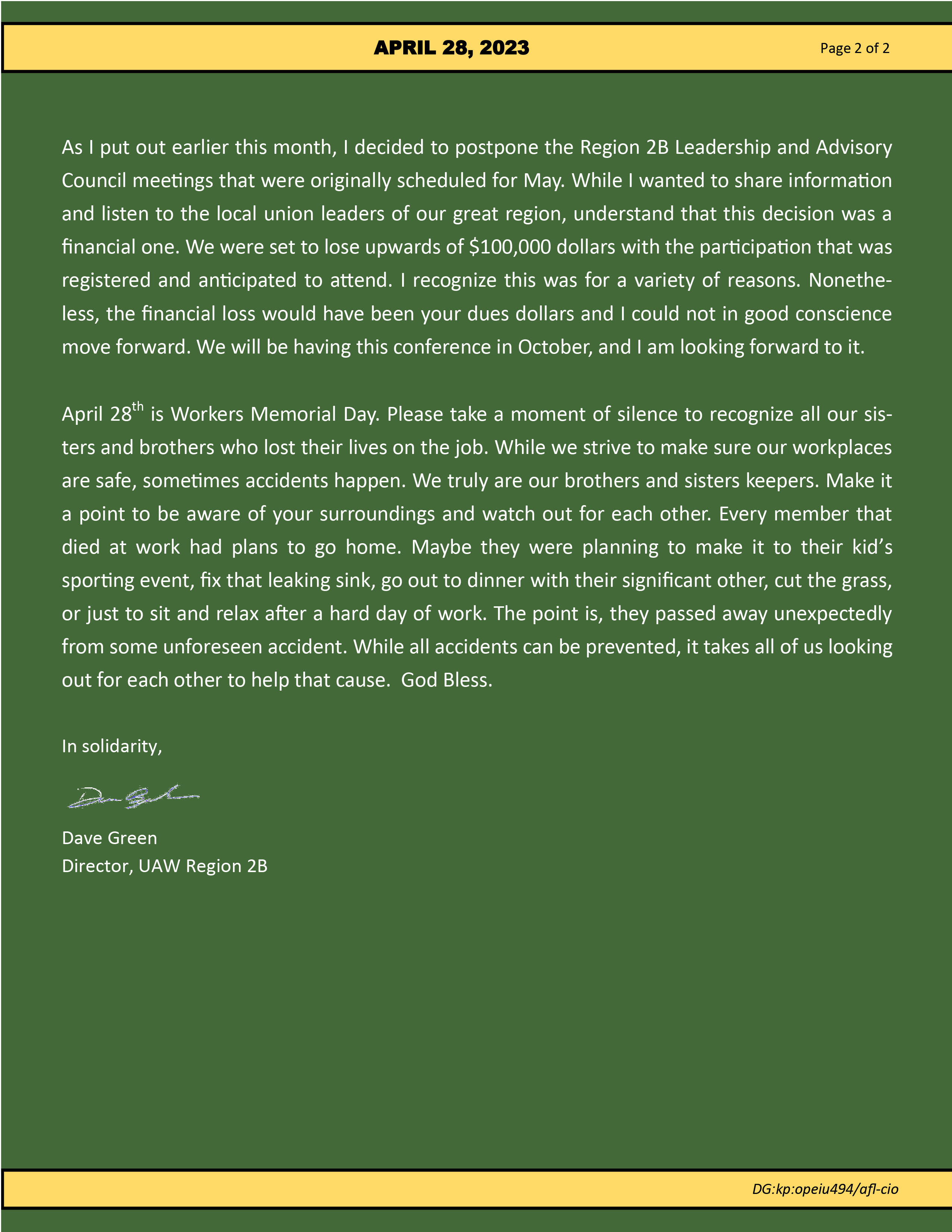 UAW Local 1050 Update
Brothers and Sisters, as you all may know by now, Jeff Judson has resigned as President of UAW Local 1050. In accordance with our by-laws, I will now fill the role as President for the rest of the term. An election to fill the position of Vice-President will be held as soon as possible, details will be shared with the membership and retiree's as soon as we have it. Once I'm settled in, I will review the current appointed committee chairs and make any necessary changes if needed. Again, I will update the membership once this has happened. The Bargaining Committee has met briefly to discuss our planning for the upcoming negotiations. We will continue to meet on a regular basis leading up to negotiations to make sure we are well prepared. We always ask our members to try and plan ahead as well. Be financially responsible and try not to make any big purchases. We will strive to get a contract that is fair and beneficial to all our hard working members. Sometime's this doesn't happen without us letting the company know we are willing to do whatever it takes to get one. So we need to hope for the best and plan for the wost. The title I have is changing but why I'm here is not. I will continue to represent the membership as always with the rest of our elected officials. If anyone has any questions, please feel free to reach out to me.
In Solidarity,
James "Gappy" Burney
James Burney
President, UAW Local 1050

UPDATE 3/14/23

EFFECTIVE IMMEDIATELY
Southwest General is pleased to announce a long term agreement with Anthem has been reached. Southwest General will continue to remain in-network for care for you and your family.
Shervon Redd,
UAW Benefit Representative
PH: 216-641-4627 | FAX : 216 -641-4117
Email: Shervon.redd@howmet.com
1600 Harvard Ave. Cleveland, OH 44105